2nd National Civil Engineering Symposium
28 April 2022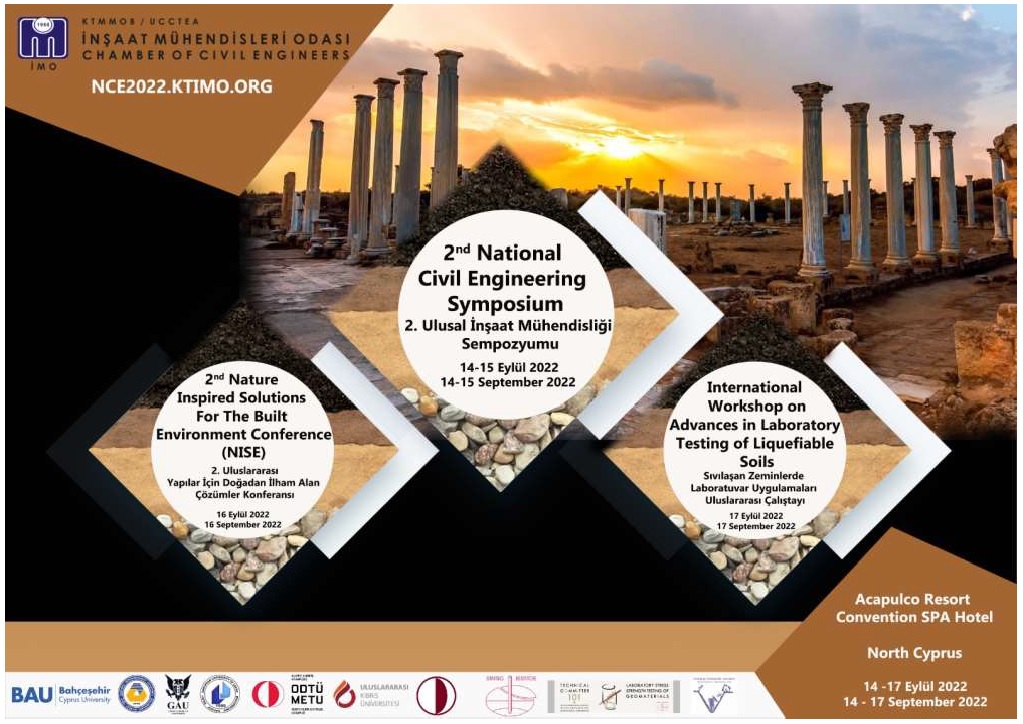 Announcement of the UCCTEA Chamber of Civil Engineers:


The 1st National Civil Engineering Symposium, in which studies specific to Cyprus were presented, made a sound, with the participation of both our country's academicians and our colleagues from the industry. Within the scope of the symposium, 8 sessions and 45 presentations were held in Turkish or English (Turkish translation) for two days in the sessions organized in the Civil Engineering sub-branches of structural engineering, geotechnical engineering, water resources, materials sciences, project management, and traffic and transportation engineering sub-branches.
It has been decided to repeat the symposium, which received the appreciation of both the academic communities of the country and our colleagues from the industry. In the following process, it was decided to organize the mentioned symposium every two years and to focus on the topics that we will examine the problems of the country in addition to general civil engineering. In this context, the first two days of the symposium to be held on 14-17 September 2022 will cover general civil engineering issues, on the third day a conference on soil improvement issues will be held with international participation, and on the last day of the symposium an international workshop will be organised with the auspiracy of TC101 Laboratory Testing - Technical Committee of International Society for Soil Mechanics and Geotechnical Engineering.
It is obvious how important such studies are in our country, where professional people as well as professional organizations are ignored and not given the necessary importance. In this sense, IMO, which has taken every necessary step within its corporate structure, has undertaken a mission to carry society in general and the professionals exclusively to the point they deserve in the national and international community.
We would like to thank all local and foreign professionals and academicians who will contribute to the symposium to be held in this context, reminding us once again that Civil Engineering, a universal profession, is the ambassador that connects countries and cultures. We wish you success.
Gürkan Yağcıoğlu
UCCTEA Chamber of Civil Engineers - President